Skip to product information
Cooling and luxuriously smooth cleansing for your sensitive skin and scalp.

Suu Balm Dual Cooling and Moisturising Cream Body Wash is ideal for gentle cleansing on sensitive and dry skin, leaving your skin feeling soothed, moisturised and refreshed. This soap, sulphate, fragrance, paraben and preservative free cream body wash is suitable for all skin types.

A gentle formula suitable for itchy, flaky scalp to reduce dandruff, relieve itch and soothe your irritated scalp

• Formulated by National Skin Centre, Singapore

• Safe and effective anti-dandruff actives - does not include zinc pyrithione, a common anti dandruff ingredient that is classified a carcinogen and banned in the EU

• Hypoallergenic, dermatologist-tested

• Natural cooling methol for rapid itch relief

• Mild surfactants used for gentle cleansing instead of harsh sulfates

• pH optimised

• No harmful emulsifier and foaming agents (DEA, MEA, TEA)

• Antifungal properties from piroctone olamine which is suitable for sensitive skin

When and How to Use

Body Wash

Use to gently cleanse your body. Massage a small amount onto wet skin. Rinse and pat dry. For best results, apply Suu Balm Cooling Itch Relief Moisturiser after cleansing and drying. Do not use it if you are allergic to any of the ingredients.

Shampoo

Apply 1-3 pumps (depending on your hair length) to wet hair, then massage onto scalp and through to hair ends to gently cleanse. Leave in for several minutes for best effect, and then rinse thoroughly. Repeat if necessary. Do not use if you are allergic to any of the ingredients. Avoid the eyes as it may sting; if shampoo does get in your eyes, rinse thoroughly with water.

For optimal anti-dandruff and itch-relief results, use together with our

scalp spray
Suu Balm® Cool & Cleanse from Head-to-Toe Bundle
Regular price
$73.40 SGD
Sale price
$62.40 SGD
Unit price
per
Sale
Sold out
The perfect bundle to beat the heat! 
Consisting of our award-winning body wash and our new anti-dandruff shampoo, this duo aims to provide cooling cleansing for your scalp and body. Formulated with ultra-gentle ingredients that does not strip off your skin's natural oils, this bundle is suitable for anyone with dry, itchy, sensitive and eczema-prone skin / scalp. 
Each bundle contains x1 420ml body wash and x1 480ml shampoo.
Cooling and luxuriously smooth cleansing for your sensitive skin and scalp.

Suu Balm Dual Cooling and Moisturising Cream Body Wash is ideal for gentle cleansing on sensitive and dry skin, leaving your skin feeling soothed, moisturised and refreshed. This soap, sulphate, fragrance, paraben and preservative free cream body wash is suitable for all skin types.

A gentle formula suitable for itchy, flaky scalp to reduce dandruff, relieve itch and soothe your irritated scalp

• Formulated by National Skin Centre, Singapore

• Safe and effective anti-dandruff actives - does not include zinc pyrithione, a common anti dandruff ingredient that is classified a carcinogen and banned in the EU

• Hypoallergenic, dermatologist-tested

• Natural cooling methol for rapid itch relief

• Mild surfactants used for gentle cleansing instead of harsh sulfates

• pH optimised

• No harmful emulsifier and foaming agents (DEA, MEA, TEA)

• Antifungal properties from piroctone olamine which is suitable for sensitive skin

When and How to Use

Body Wash

Use to gently cleanse your body. Massage a small amount onto wet skin. Rinse and pat dry. For best results, apply Suu Balm Cooling Itch Relief Moisturiser after cleansing and drying. Do not use it if you are allergic to any of the ingredients.

Shampoo

Apply 1-3 pumps (depending on your hair length) to wet hair, then massage onto scalp and through to hair ends to gently cleanse. Leave in for several minutes for best effect, and then rinse thoroughly. Repeat if necessary. Do not use if you are allergic to any of the ingredients. Avoid the eyes as it may sting; if shampoo does get in your eyes, rinse thoroughly with water.

For optimal anti-dandruff and itch-relief results, use together with our

scalp spray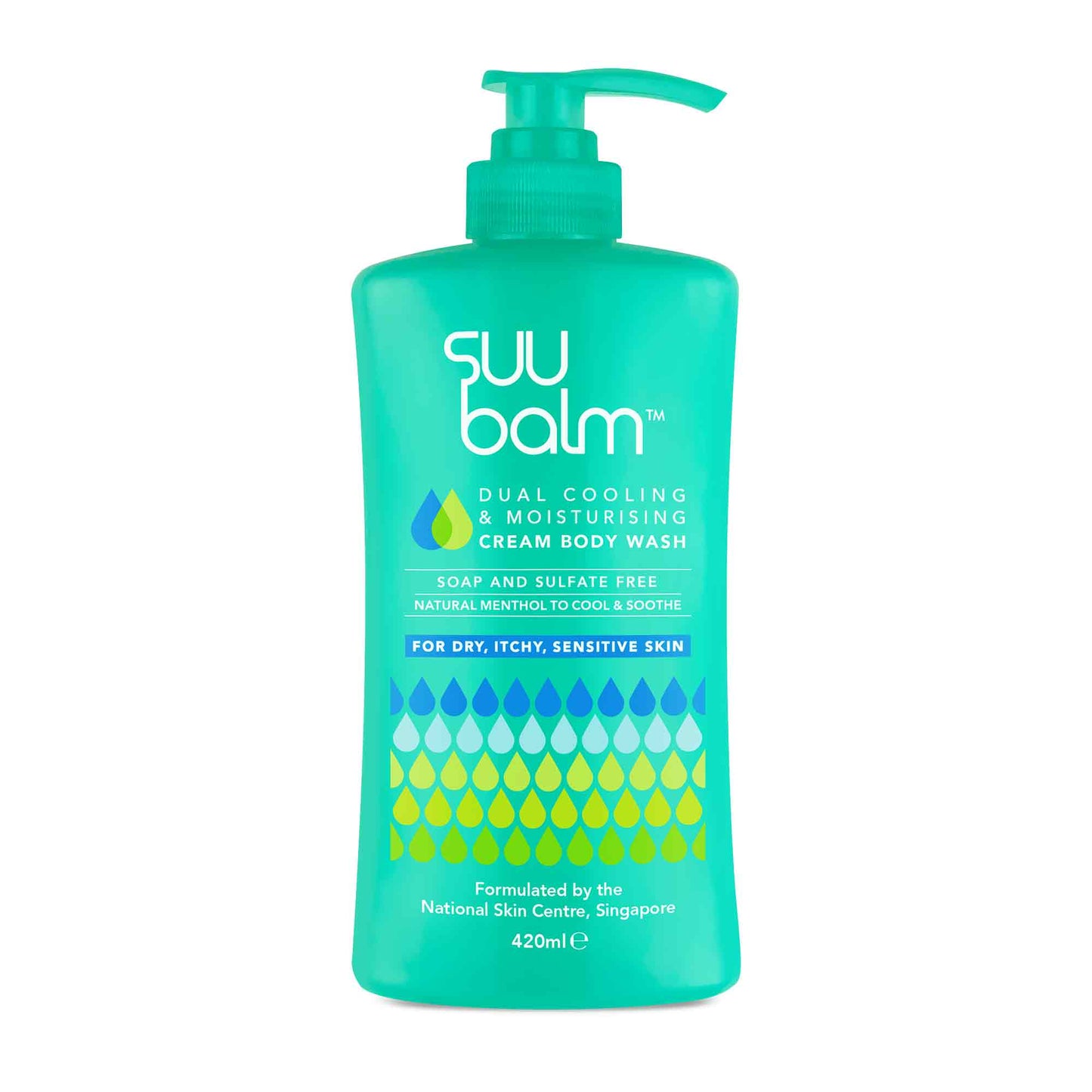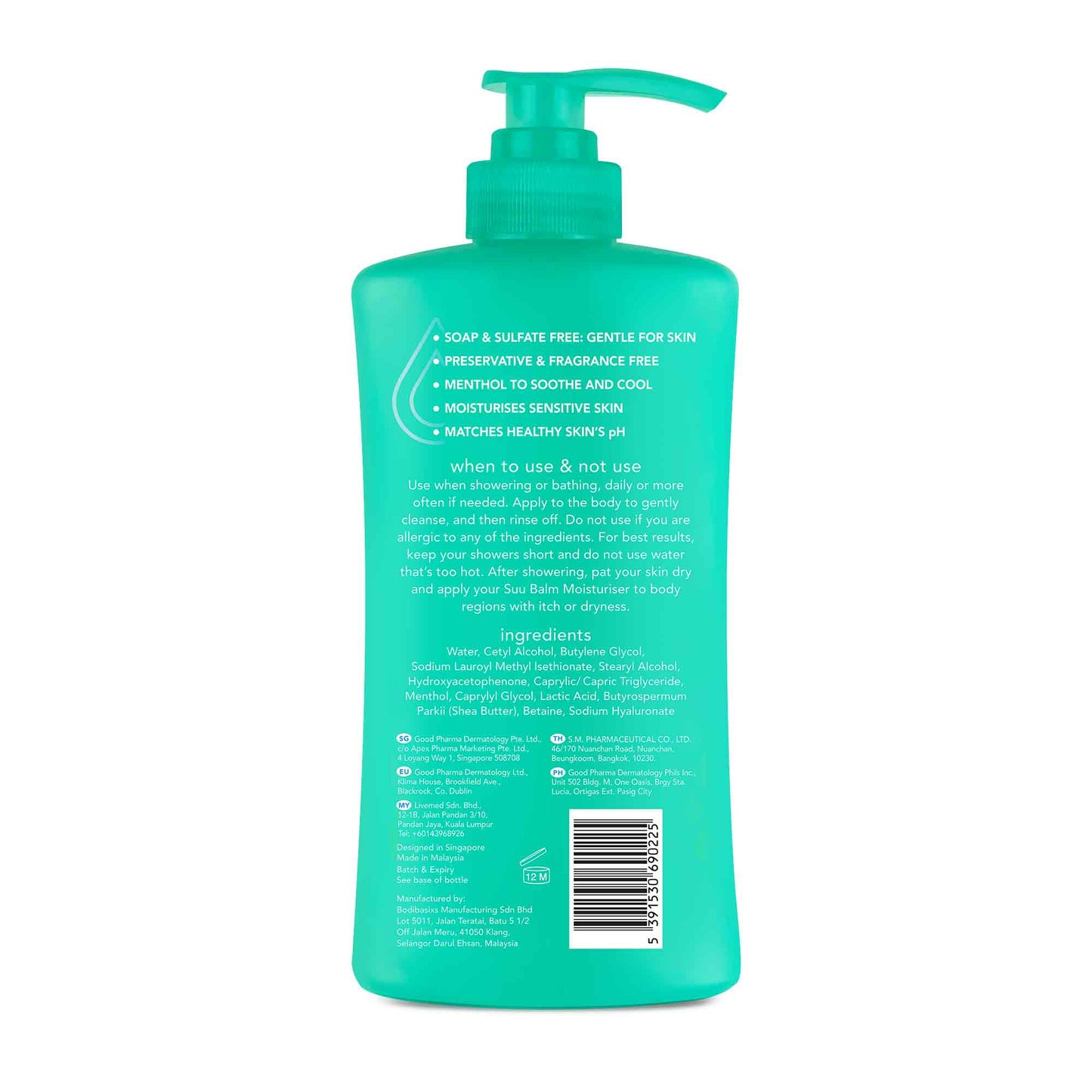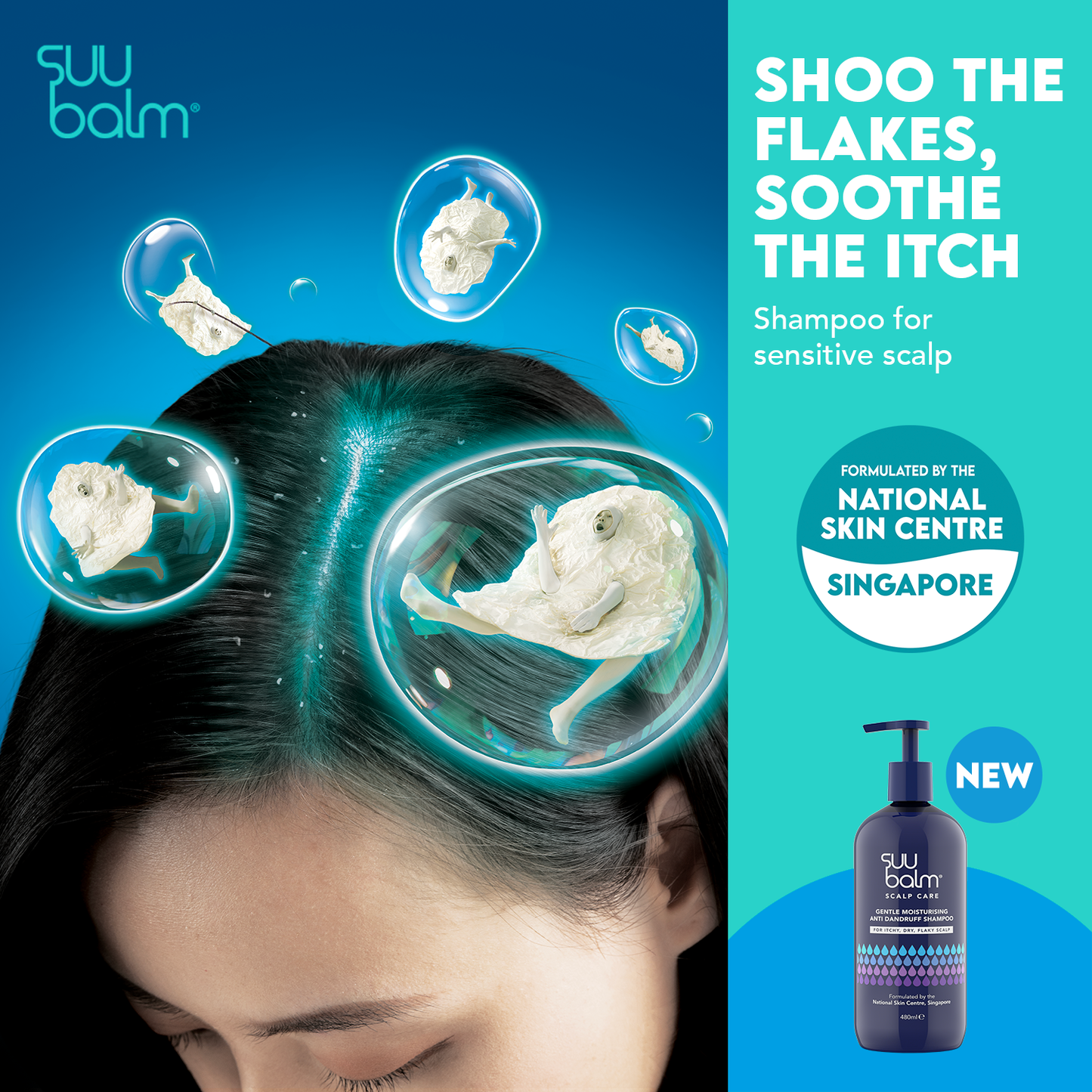 Effective
Products is effective in treating skin itchiness